Online Investigations in the media
The team at Online Investigations Pty Ltd is regularly called upon by journalists and media worldwide to provide insight and assistance on a range of online and real life based investigations.
Daily Telegraph – 20 September 2021
Newscorp – September 2021
Eye Spy Podcast series – Online Investigations owner Julia Robson featured on episode 5
7NEWS Sydney – 4 September 2021
Family leads fight for new catfishing laws after horror murders
News.com.au – 18 March 2021
NSW Animal Justice Party: motion to outlaw animal 'crush videos' passes upper house
SBS TV – 17 August 2020
World News – Segment on Scams and Identity Theft (Segment begins at 32:43)
The Sydney Morning Herald (Good Weekend) – 7 August 2020
Media coverage for private investigator Julia Robson's podcast "Chasing Charlie" – 2020
Newstalk ZB – Kiwi pi brings down epic conman
Radio NZ – Private Investigator on trail of Kiwi Conman
Mamamia – Chasing Charlie podcast: the PI on the trail of a sinister conman
Punkee – Chasing Charlie is your next podcast obsession and I'm hooked
WHIMN – Chasing Charlie podcast follows private investigator on the hunt for a conman
The Urban List – Chasing Charlie is Your New True-Crime podcast obsession
NZ Herald – Julia Robson on the man she chased for seven years
Stuff.co.nz – Kiwi pursued in new true crime podcast
ICON – In conversation with a PI and the case that took over her life
9honey – Julia Robson has made it her mission to help women scammed by 'Charlie'
WHIMN.com.au – 14 November 2018
"I spoke to a Private Investigator and now I'm shook"
Sydney – November 2017
Panelist at Online Safety conference for eSafety Commission
Foxtel – March / April 2017
Television show "Real Housewives of Sydney" (Two episodes)
Foxtel – March / April 2017
Television show – "Long Lost Family Australia" (All 8 episodes)
Vice News – November 2016
Learning how to detect a lie is easier than you think
Mojonews – April 2016
Online predators are meeting single parents on dating sites to target their children
4KQ Radio – April 2016
We did it! We reunited the long lost family!
We have found their niece after a 30 year separation!
Can we reunite Geoff and Jill with their long lost niece?
Channel Ten – Studio 10 – March 2016
Channel Ten TV Series – "Long Lost Family" (2016)
On air investigator and sole search consultant
Video: Watch full episodes of Season 1 "Long Lost Family" (Total 8 episodes)
Herald Sun – Ten Network's Long Lost Family program prompted over 1000 calls asking for help
Mornings (Channel 9) – 31 March 2015
Video: Love Cheats – What you need to look out for when looking for love online
The Australian Weekend Magazine – 16 August, 2014
"Eyes on the spies: how far can private investigators go?"
Mix 101.1 FM Chrissie and Jane Breakfast – Regular weekly segment (2014)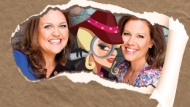 NB: A total of 20 cases were investigated during 2014.
Some of the cases can be found at: https://soundcloud.com/mix1011
In The Black (Digital Magazine) – 18 March, 2014
"March 2014: Our picks of the journals, blogs, and e-resources"
Mix 101.1 FM Breakfast Radio – "Elise" – Is she being #catfished?
Australian Women's Weekly – 23 September, 2013
"The PI saving lonely hearts from online scams"
Courier Mail – 23 May, 2013
"Experts say it would be easy for fugitive mum Camilla Ellefsen Lunetta to evade authorities in Australia"
SC Magazine – 12 April, 2013
"Love in the time of online scams"
3AW Talkback Radio (Hosted by Denis Walter) – 5 March, 2013
"Australian woman scammed and murdered in South Africa"
Mizwhiz.com (Technology section) – 14 February, 2013
"Romance Scam Check App: Don't Let Scammers Get You!"
Smartcompany.com.au – 14 February, 2013
"20 of the best Australian business blogs"
News.com.au (Technology section) – 14 February, 2013
"Secrets behind online dating scammers"
The West Australian – 13 January, 2013
"Lonely hearts hire detectives"
Blacktown Sun newspaper – 19 November, 2012
"Don't make date with scammers"
A Current Affair – 10th September, 2012
The Telegraph Newspaper – 13 April, 2012
"Scamming love rats get social"
The Project – 14 February, 2012
Today Tonight – 14 February, 2012
(Video no longer available)
The Age Newspaper – 14 February, 2012
ABC 7:30 Report – 20 January, 2012
A Current Affair – 8th December, 2011
Adelaide Newspaper – 12 November, 2011
"Lonely hearts rich picking for scammers"
A Current Affair – 17th June, 2011
Herald Sun Newspaper – 17th June, 2011
"Scores of love rats outed in online dating" || "He might be attractive but is he honest"
Sunday Mail Queensland – April 25, 2010
"Private Investigators use Facebook to uncover insurance fraud"